Cher announced her new fragrance, Eau de Couture by Cher, one day after celebrating her 73rd birthday
By KAITLYN FREY
People
May 21, 2019

After more than 30 years, Cher is finally introducing a new fragrance to the world.
The Grammy Award-winning artist announced her latest endeavor with ScentBeauty, the world's first multi-brand e-commerce platform for bespoke fragrances, the day after celebrating her 73rd birthday. Cher's new signature fragrance, called Eau de Couture by Cher, marks the star's big return to the industry after her Uninhibited perfume became discontinued in 1987. But this time, Cher took a different approach to selecting the perfect scent.
"This is a genderless scent. I made it for people who love perfume and want to smell good and for people who feel that it's part of who they are," she said in a press release of the fragrance, which features notes of vanilla, bergamot, neroli, jasmine and vetiver.
She added: "I like vanilla. It's very touchy-feely. It makes you want to hold yourself.
But before bringing a new product into the world, Cher wanted to make sure every aspect of it, from the packaging to the scent itself, was perfect.
"I have worked on this fragrance for the last four years. It is a labor of love and I am especially happy to announce this the day after my birthday," she said.
While Cher has yet to confirm the exact launch date (she tweeted when she's "ready" she will "share it"), ScentBeauty says the fragrance will hit its website and key retailers starting in late fall 2019. In the meantime, Cher is wearing her scent at every chance she gets.
"This too is a milestone in my career as an artist. It completely expresses who I am, and I wear it every day," she said. "I know there are people who don't want to have anything on them, but I cannot even go to that place."
​

Cher-themed suite opens at NYC's Sofitel hotel
By Lilit Marcus
CNN
May 20, 2019
(CNN) — A jukebox musical about one of the world's most iconic singers, "The Cher Show" is on Broadway. And now Cher is also in a hotel suite.
The Sofitel hotel in New York City is paying tribute to the singer and the musical with a Cher and Cher Show-themed suite.
In addition to the usual upscale amenities, the suite will feature a "Cher Show" poster signed by the cast, a Time magazine cover signed by both Cher and her longtime costume designer Bob Mackie, Cher portraits by noted celebrity illustrator Al Hirschfeld and some original costumes from "The Cher Show."
The Sofitel, which is in Midtown Manhattan a few blocks north of Bryant Park, is located in the middle of all the Pride action that's going on.
Pride is always an event in New York City, but 2019 is an especially notable year.
This year, WorldPride takes place in the Big Apple to celebrate the 50th anniversary of the Stonewall riots, which marked a major turning point in the battle for LGBTQ rights in the United States and around the globe.
The Sofitel is also about a 15-minute walk from the Neil Simon Theatre, where "The Cher Show" is playing.
Three actresses play various incarnations of Cher, from the variety show era Cher to the superstar days, in every performance. They belt out some of the one-named diva's biggest hits, such as "Believe" and "If I Could Turn Back Time," along the way.
The suite is available for bookings beginning June 10 and going through September 15.
If you already have your accommodations booked but still want to get a taste of the experience, the Sofitel's Gaby Bar is offering a special Cher cocktail called -- what else? -- Turn Back Thyme.
The cocktail consists of gin, lime juice, ginger beer and thyme-infused simple syrup, topped off with a candied bit of ginger.
Gaby Bar will host a "Proud Hour" from 8 to 10 p.m every day from June 10 to July 15. They say 20% of all cocktail proceeds will benefit The Ali Forney Center, a New York City-based organization that helps to prevent LGBTQ teen homelessness.
In 2018 and 2019, the Sofitel was the official hotel partner for the Tony Awards. For hardcore theater buffs, there is a year-round Tonys-themed suite that features signed playbills, classic performance photos and more.
Bookings for the "Cher Show"-themed suite begin at $499 per night.


​


Cher Style is now on Instagram!
Follow us for the latest news and photos.
​
​

​
– May 20 –


​


Cher Gets Campy During Surprise Performance at the 2019 Met Gala
By MCKENNA AIELLO
E! Online
May 6, 2019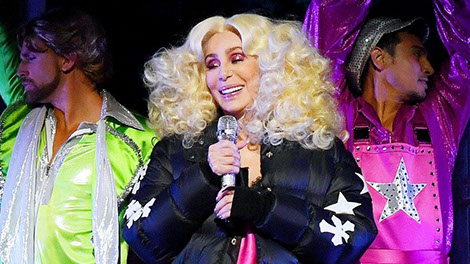 You didn't think the 2019 Met Gala would exclude the Queen of Camp, did you?!
After the biggest names in Hollywood headed into the Metropolitan Museum of Art for the intimate bash, the one and only Cher took the stage with a surprise performance that we could only presume turned back time to the performer's heyday.
Famous attendees like Bella Hadid, Tracee Ellis Ross and Hailee Steinfeld documented the spectacle for their Instagram followers, which included a troupe of dancers decked out in '70s-inspired gear. Cher herself channeled her inner disco girl as she belted out hits like "Believe" and "Waterloo" in an embellished bomber jacket, light wash denim and a platinum blond 'do.
Lady Gaga, who co-chaired the event, helped introduce the living legend.


"We have some incredible performances tonight and I would ask you kindly to pay attention," Gaga shared onstage. "Are you quiet? Are you focused? Are you ready?"
As soon as stars like Bella, Sarah Paulson, Katy Perry and Gwen Stefani—who were all seated at the same table—followed Gaga's instructions, Cher really got the party started.
The 72-year-old then concluded her performance with a heartfelt speech about her lifelong connection to the Met Gala.
"I wasn't going to say anything tonight, but then I saw the First Monday in May documentary and it reminded me of when I was a little kid, and it made me kind of excited and depressed, and drama queen-ish. That's who I am," she recalled. "But I was really poor, and dyslexic... I had to wear rubber bands on my shoes. I was s--t poor, but I had this love of color and painting and patterns and everything, fabric."
She continued, "When that 64 box of Crayola came out, I lost my mind. I wanted to be something, and I wanted to be more than just a singer and when I met Sonny he'd do anything I'd want him to do, so I just lived out my dream with him, and we just kept going. I just want you to know how proud I am to be here and be a part of this."
Amen!
​


Tony Nominee Stephanie J. Block and the Cast of The Cher Show to Perform at Barnes & Noble
By Adam Hetrick
Playbill
May 1, 2019
The show's stars will celebrate the release of the original Broadway cast recording May 14.
The cast of The Cher Show will celebrate the in-store release of their original Broadway cast recording with a May 14 performance at the Upper East Side Barnes & Noble.
The show's trio of leading ladies, including 2019 Tony Award nominee Stephanie J. Block, Teal Wicks, and Micaela Diamond, will join co-stars Jarrod Spector and Matthew Hydzik for the 4 PM performance and CD signing to follow.
The Cher Show's original Broadway cast album, which is now available on all digital retail and streaming platforms, will be released on CD May 10 in stores.
In addition to Block's Tony nomination for Best Performance by an Actress in a Leading Role in a Musical, The Cher Show also received Tony nominations for Best Lighting Design and Best Costume Design of a Musical.
The complete track listing for The Cher Show's original Broadway cast album follows:
1. If I Could Turn Back Time
2. Half-Breed
3. The Shoop Shoop Song
4. I Got You Babe
5. When the Money's Gone - All Or Nothing
6. Ain't Nobody's Business If I Do
7. Living in a House Divided
8. Bang Bang
9. Believe
10. Song For the Lonely
11. All I Ever Need is You
12. Heart of Stone
13. Gypsies, Tramps and Thieves
14. Midnight Rider - Ramblin' Man
15. Just Like Jesse James
16. Dark Lady
17. Strong Enough
18. The Way Of Love
19. The Beat Goes On
20. I Found Someone
21. You Haven't Seen The Last of Me
22. Finale
The Upper East Side Barnes & Noble is located at Lexington Avenue and 86th Street.
​

7 Surprising Facts About The Cher Show Costumes,
Straight from Tony Nominated Designer Bob Mackie


The icon's longtime fashion collaborator opens up to PEOPLE about bringing her looks back to life for Broadway


By BRITTANY TALARICO
People
April 30, 2019


"Make it bigger, Bob!"
Those four words built the foundation for designer Bob Mackie's more than five-decade relationship with the ultimate stage and screen queen, Cher.
Cher herself admits that she would not be the style icon she's known as today without Mackie, her fashion whisperer, bringing her visions to life. The duo met in the '60s when Mackie was hired to do all the costuming for The Sonny & Cher Comedy Hour. They would go on to create one of the most show-stopping wardrobes in history, with their creations landing everywhere from the Oscars red carpet to music videos to Vegas stages.
​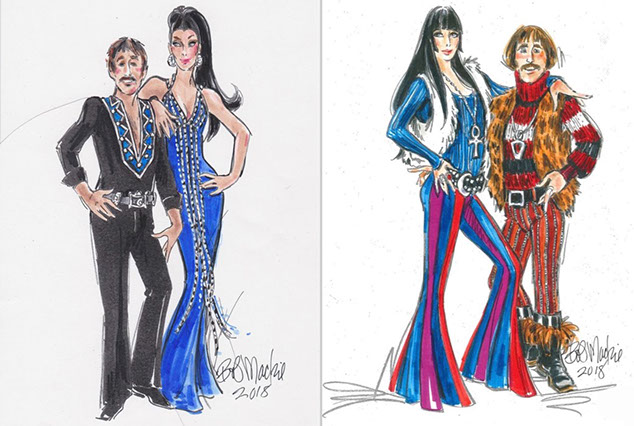 Bob Mackie
So when it came time to outfit Cher's latest project, The Cher Show, a Broadway biopic of her life and career, she knew Mackie was the only person that could turn back time and bring her closet back to life. And she was right. On Thursday, Mackie earned a Tony nomination for Best Costume Design, leading a team that assembled over 450 costumes for the stage, most exact replicas from Cher's famous closet.
"She's never intimidated by anything she wears," Mackie tells PEOPLE of Cher's risk-taking sense of style. "She just wears it like a T-shirt and jeans. And she looks like she was born to wear it — because she was."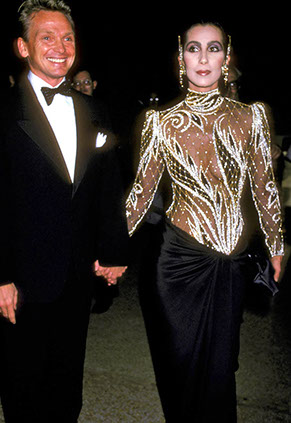 The show follows Cher's life through the '60s, '70s and '80s, with three different actresses taking on each stage of her life: Star, Lady and Babe. And the clothes serve as their own character.
"They stand up and give standing ovations for his costumes," Cher said in a recent interview with the Today show. "I was shocked the first time, but totally excited. At the end, people just stood up and started screaming."
Below Mackie takes PEOPLE inside the show's sparkly fashion closet.
Mackie Still Had Original Patterns from Cher's Famous Wardrobe
"I kept all of the the original patterns from every look we did. We even had beading patterns from her most famous outfits, which all require thousands of beads. That helped craft the wardrobe on a short timeline. There were some absolute replicas, especially her 1986 Oscars gown. I had a wardrobe for years and we kept everything that we ever made, and for the Oscars we had the original one to look at, which made a big difference. If it was somebody else trying to do it, I think it would be a little harder. And it was hard enough."


​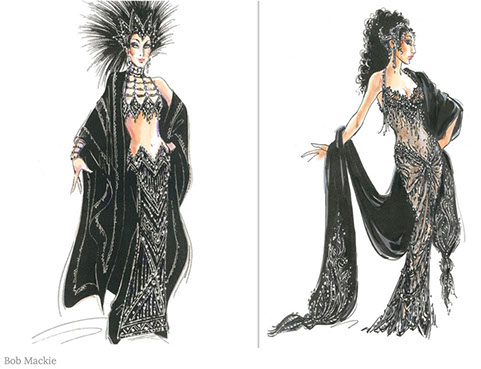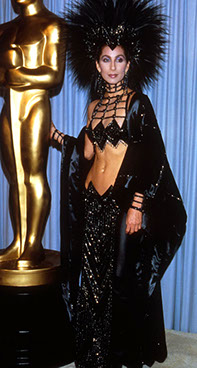 Speaking of the Oscars Dress… Bob Advised Cher NOT to Wear It
"I'm always the conservative one. At first I told her, 'You can't dress like that to give somebody an award, you'll pull all the focus from them.' And she said, 'Oh, they won't mind.' Then there she is, and she's on the cover of every newspaper all across the country. She knows what she's doing. Of course she was the one that got printed. People liked it and hated it at the same time. Critics said, 'Well, that's not fashion.' Well, it wasn't meant to be fashion. She wanted to do it just because it was fun. Halloween is her favorite holiday, and she loves to dress up. She always says, 'I don't ever want to be dressed like a housewife in an evening gown.'"
The Entire Cast Wardrobe Took One Year to Make
"It wouldn't have taken all that much time, but there are always re-writes on a script. When you do that, it changes the costumes. We worked on it for almost a whole year."
​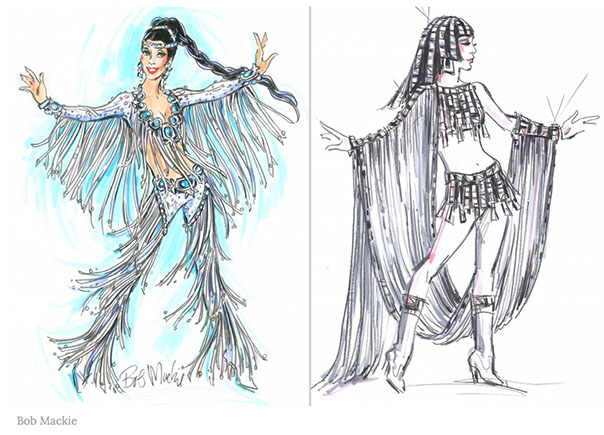 There Are Upward of 450 Outfits Featured in the Show
"We have a huge ensemble to outfit. The Chers are just one piece. We have the most amazing group of dancers, all of Sonny's outfit changes. It was really so much fun to create each and every look."
There Is a Full-Time Beader to Fix Costumes Backstage
"A lovely and talented man, Philip, works on the outfits every day. He fills in beads and he makes sure everything is kept looking perfect. Which is the way you have to do it, because clothes like that usually are made to wear one night and then you put it away and say, 'Oh, that's what I wore to the Academy Awards.' But every night that stuff goes onstage, and it's put on and taken off. It wears out fast from all the quick changes."
The Chers' Understudies Also Had Complete Wardrobes
"Everything we made for each Cher was to the actresses' exact measurements. And since we have a whole other group of talented women who are understudying these parts, and we had to make a complete new set of clothes for each of them as well. The costume budget is quite amazing when you think about what we have to make doubles of. I'm sure we went over budget. That's part of what that girl's story is all about."
Mackie's Least Favorite Cher Look Is the Turn Back Time Video
"When she was doing 'Turn Back Time' on the big boat with all the sailors, I hated that outfit, but she made me do it. And then she put a jacket on over it, and it made it look even more naked because you couldn't see where the look started and it stopped. Anyway, I didn't admit that I'd had anything to do with it for years. She's gotten a lot of attention from the way she dresses and the way she looks. And she's gorgeous. The thing about Cher is that her body was always so toned and so perfect that nothing, no matter how naked [it was], ever looked vulgar. It always looked immaculate. Like 'Okay, I'm good. Everything's in place.'"
​

CHER AND THE CHER SHOW CAST ON THE TONIGHT SHOW
Broadway Direct
April 16, 2019


Superstars come and go. Cher is forever.
For six straight decades, only one unstoppable force has flat-out dominated popular culture — breaking down barriers, pushing boundaries, and letting nothing and no one stand in her way.
The Cher Show is her story, and it's packed with so much Cher that it takes three women to play her: the kid starting out, the glam pop star and the icon. The Cher Show is 35 smash hits, six decades of stardom, two rock-star husbands, a Grammy, an Oscar, an Emmy, and enough Bob Mackie gowns to cause a sequins shortage in New York City, all in one unabashedly fabulous new musical.
​
Goddess of pop Cher performs "If I Could Turn Back Time" with the Broadway cast of The Cher Show for the Tonight Show audience.
​
Cher and The Cher Show Broadway cast, Stephanie J. Block, Teal Wicks and Micaela Diamond, chat about the musical that spans six decades of and 35 hits from the legendary performer's life and career.
​
Cher joins the Broadway cast of The Cher Show for a performance of "I Got You Babe" for the Tonight Show audience.
​
Cher discusses her return to touring, Mamma Mia! Here We Go Again and what she thinks of people doing impressions of her.
​
Jimmy and Cher take turns lip-syncing to audio of random people singing karaoke to her hit classic "Believe."
​
Cher talks about her life-long struggle with shyness and producing a Broadway show about her life.
​
Cher recreates her iconic Moonstruck slap after escorting Jimmy to the stage before his monologue from Monday, April 15.
​

SiriusXM to Launch 'The Cher Channel' This Week
By Rania Aniftos
Billboard
April 16, 2009
SiriusXM is officially launching its much anticipated Cher channel this week, the broadcasting company announced Tuesday (April 16). The limited run will begin April 17.
The channel will play music from throughout the icon's career, including her hits and her musical influences, along with stories from Cher herself about her music that defined multiple decades and her life. The channel will also feature tracks off the original cast album for The Cher Show, the new bio musical currently playing on Broadway.
"Working with Cher these last three years has confirmed everything I always thought about this extraordinary icon: She's brilliant, she's brave, and she is one of the greatest artists of our time," said Producer Jeffrey Seller in a statement. "The Cher Channel on SiriusXM is a perfect way for fans to get even deeper into the inspiration that is Cher."
SiriusXM subscribers since April 3, 2019 will be able to enter for the chance to win two trips for the winner and a friend to New York City. The prize includes airfares, hotel stays and a pair of tickets to see The Cher Show on Broadway, plus see Cher live at Madison Square Garden from the front row and the opportunity to meet her.
SiriusXM's The Cher Channel will launch on Wednesday, April 17 at 12 p.m. EAT and run through Wednesday, May 1 at 3 a.m. EST on SiriusXM radios (channel 4) and on the SiriusXM app.
​


Cher, Broadway Musical Cast Plot 'Fallon' Takeover
Singer will perform "If I Could Turn Back Time," "You Haven't Seen the Last of Me" with stars of 'The Cher Show'
By RYAN REED
Rolling Stone
April 9, 2019
​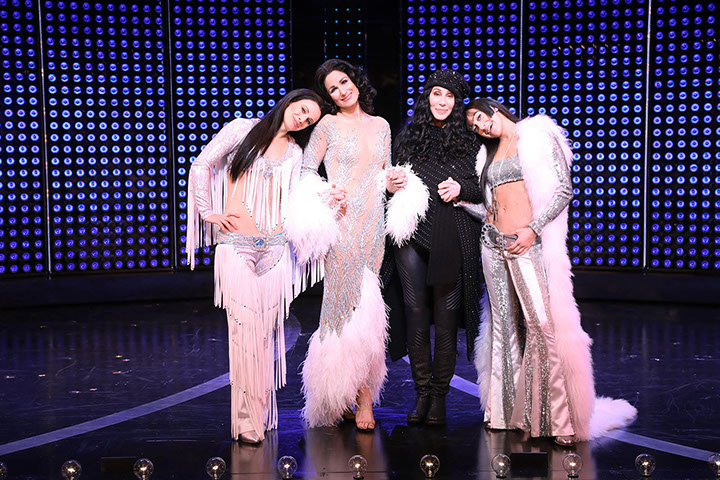 Rob Kim/Getty Images
Cher will join the stars of the Broadway musical The Cher Show — Stephanie J. Block, Teal Wicks and Micaela Diamond — for a Tonight Show takeover dedicated to the singer. The quartet will appear on the program's Monday, April 15th episode for interviews with host Jimmy Fallon and two musical performances.
Block will join Cher for a live version of 1989's "If I Could Turn Back Time," and all four singers will perform 2010's "You Haven't Seen the Last of Me." Previous Tonight Show takeover installments have featured Justin Timberlake, Ariana Grande and Miley Cyrus.
The Cher Show, a jukebox musical that traces the iconic performer's life and career, premiered in June 2018 in Chicago before opening on Broadway six months later. The production is framed around the three stages of her life, with the actresses playing the characters Babe (Diamond), Lady (Wicks) and Star (Block).
Cher released an album of Abba covers songs, Dancing Queen, in 2018. In recent Twitter posts, she's teased the possibility of Christmas LP, a second record of Abba covers, an autobiography and a biopic on her life.


​

Chita Rivera Awards Will Honor Jeffrey Seller, Cher, and More!
Broadway World
April 9. 2019


Graciela Daniele, Flody Suarez, Jeffrey Seller, and Cher will be honored at the 3rd Annual Chita Rivera Awards, taking place at NYU Skirball Center for the Performing Arts (566 LaGuardia Place, off Washington Square Park) on Sunday, May 19 at 7:30pm, it was announced today by Joe Lanteri, Founder and Executive Director of the New York City Dance Alliance Foundation (www.NYCDAFoundation.net). Lanteri produces in conjunction with Patricia Watt.
Dancer, choreographer and theater director Graciela Daniele will receive the third annualLifetime Achievement Award, and Flody Suarez, Jeffrey Seller, and Cher (producers of The Cher Show on Broadway) will be honored with the Ambassador for the Arts Award honoring their contribution to the convergence of theater, film, and television.
Graciela has worked with Chita Rivera on four shows: Chicago, The Rink, Chita Rivera: The Dancer's Life, and The Visit.
Tickets for the Chita Rivera Awards are currently on sale and can be purchased at www.ChitaRiveraAwards.com or by calling 1-855-NYC-5678. Ticket prices are as follows: $100 for a balcony ticket to the Awards ceremony, $300 for a par-terre ticket to the Awards ceremony and admission to the red carpet pre-show cocktail party, $500 for an orchestra ticket to the Awards ceremony and admission to the pre-show red carpet cocktail party and VIP reception, and $5000 for 10 Orchestra tickets to the Awards ceremony, admission for 10 to the pre-show red carpet cocktail party & 1 table at the VIP reception.
The nominations for the Chita Rivera Awards will be announced on Friday, April 26 and the nominee reception will be on Monday, April 29.
Carrying the name of one of the great dance icons of the American musical theater, the Chita Rivera Awards celebrate dance and choreographic excellence past, present and future. The mission of the awards is to honor the superb achievements of the nominees, and also to recognize the talent and passion of all theatrical choreographers and dancers. Additionally, through education and scholarships, the awards nurture future generations and preserve notable dance history.
Nominators consider outstanding choreography, featured dancers and ensembles in Broadway and Off Broadway shows, as well as outstanding choreography in film during the theatrical season. The Off Broadway and Film committees make nominations and name winners in those categories. Broadway nominees are designated by the Broadway nominating committee and winners selected by the Broadway awarding committee.
Tickets to the Chita Rivera Awards are available to the general public at www.ChitaRiveraAwards.com
​

Hillary Clinton Attended 'The Cher Show' on Broadway
Billboard
April 4, 2019
​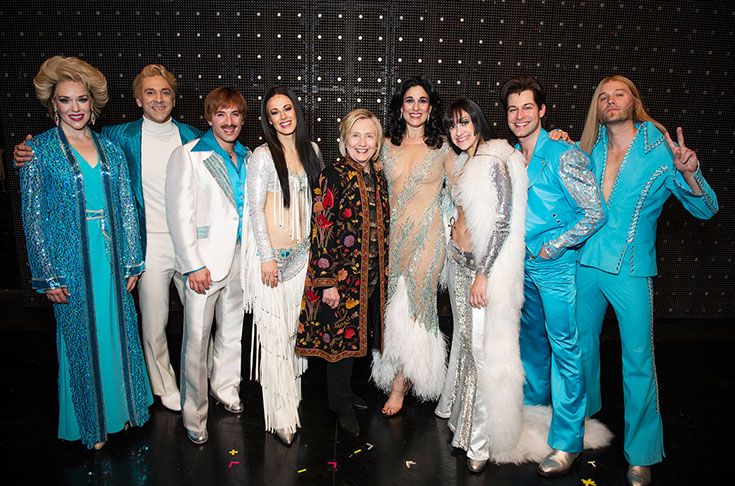 Jenny Anderson/Getty Images
(L-R) Emily Skinner, Michael Berresse, Jarrod Spector, Teal Wicks, Hillary Clinton, Stephanie J. Block, Micaela Diamond, Michael Campano and Matthew Hydzik are seen backstage at 'The Cher Show' on Broadway at the Neil Simon Theatre on April 3, 2019 in New York City.
Cher always draws a crowd, and on Wednesday night Hillary Clinton was among the fans.
The former presidential candidate was spotted in the audience at The Cher Show on Broadway, which traces the trailblazing singer, comedienne, actress's career.
The former presidential candidate was happy to pose for snaps at the Neil Simon Theatre, which were shared wide on Twitter and Instagram.
Cher and Clinton are friends from way back. The pop legend is a longtime – and vocal -- supporter of Clinton and in 2016 campaigned for the former First Lady at a string of campaign events. Cher will be on the road through much of the year with her Here We Go Again tour, which has just expanded with 14 new dates.
​

Cher Adds 14 Dates to North American Tour
Billboard
March 29, 2019
By Taylor Mims
​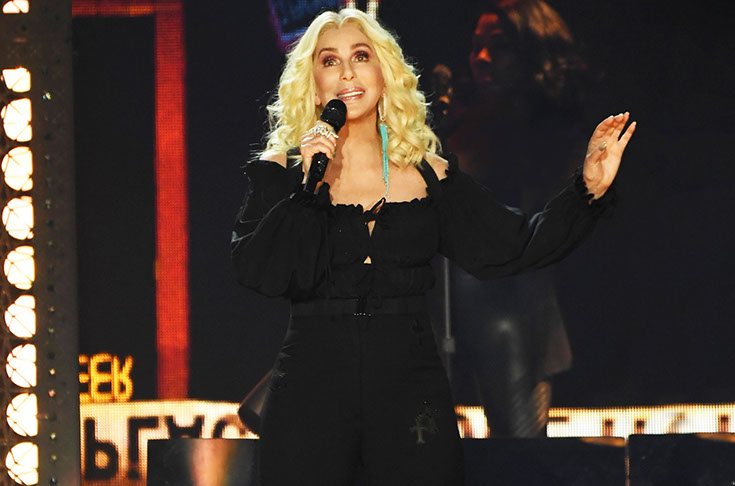 Kevin Mazur/Getty Images for Live Nation
Cher performs on stage during the opening night of her "Here We Go Again" tour at The Hertz Arena on Jan. 17, 2019 in Estero, Fla.
Cher has added 14 dates to her North American Here We Go Again tour. The new dates will follow a sold-out European leg and begin in Portland, Ore. on Nov. 19 at Moda Center.
The legendary entertainer will go on to hit San Francisco, Denver, Chicago, Toronto, New York, Philadelphia, Boston and New Orleans. Cher's new dates are scheduled to conclude with three stops in Texas including Houston, San Antonio and a final stop at American Airlines Center in Dallas.
The newly announced dates will also follow Cher's Spring trek that begins on April 18 PPG Paints Arena in Pittsburgh. Those dates conclude on May 18 at Xcel Energy Center in St. Paul, Minn.
Nile Rodgers & CHIC will continue as the special guest for the North American outing. Cher's Here We Go Again tour, which kicked off in January, marks her first trek across the U.S. in more than five years.
Tickets for the new dates will go on sale to the general public on April 5 at 10am local time via Live Nation. Check out the new dates below.
Newly announced dates:
Nov 19 — Portland, OR @ Moda Center
Nov 21 — San Francisco, CA @ Chase Center
Nov 23 — Phoenix, AZ @ Gila River Arena
Nov 25 — Denver, CO @ Pepsi Center
Nov 27 — Chicago, IL @ United Center
Nov 29 — Toronto, ON @ Scotiabank Arena
Dec 03 — New York, NY @ Madison Square Garden
Dec 06 — Philadelphia, PA @ Wells Fargo Center
Dec 08 — Boston, MA @ TD Garden
Dec 10 — Washington, DC @ Capital One Arena
Dec 13 — New Orleans, LA @ Smoothie King Center
Dec 15 — Houston, TX @ Toyota Center
Dec 17 — San Antonio, TX @ AT&T Center
Dec 19 — Dallas, TX @ American Airlines Center


​


VIDEO: Stephanie J. Block of THE CHER SHOW Performs
'If I Could Turn Back Time'
Broadway World
March 15, 2019

By Stage Tube
Stephanie J. Block from "The Cher Show" stopped by this morning's episode of "Live with Kelly and Ryan" to perform "If I Could Turn Back Time" from the Broadway musical!
Watch the performance below!
Superstars come and go. Cher is forever. For six straight decades, only one unstoppable force has flat-out dominated popular culture - breaking down barriers, pushing boundaries, and letting nothing and no one stand in her way.
The Cher Show is her story, and it's packed with so much Cher that it takes three women to play her: The kid starting out, the glam pop star and the icon. The Cher Show is 35 smash hits, six decades of stardom, two rock-star husbands, a Grammy, an Oscar, an Emmy, and enough Bob Mackie gowns to cause a sequins shortage in New York City, all in one unabashedly fabulous new musical. The Cher Show features a book by Rick Elice and direction by Jason Moore.
The Cher Show stars Tony Award nominee Stephanie J. Block (Falsettos, The Mystery of Edwin Drood), Teal Wicks (Wicked, Finding Neverland), and Micaela Diamond (Broadway debut) in the role of the iconic singer and actress at various times in her life and career. They are joined by Tony Award nominee Jarrod Spector (Beautiful, Jersey Boys) as Sonny Bono, Tony Award nominee Michael Berresse (Kiss Me, Kate; A Chorus Line) as Bob Mackie, Michael Campayno(Wicked) as Rob Camilletti, Matthew Hydzik (West Side Story, Side Show) as Gregg Allman, Tony Award nominee Emily Skinner(Prince of Broadway, Side Show)as Georgia Holt, and Dee Roscioli (Wicked, Fiddler on the Roof) as the Standby for Star and Lady.
​

CHER ANNOUNCES ADDITIONAL LAS VEGAS SHOW DATES AT PARK THEATER AT PARK MGM IN 2019
Tickets for Six New 'CLASSIC CHER' Shows On Sale Friday, March 8 at 10 a.m. PST
Cher.com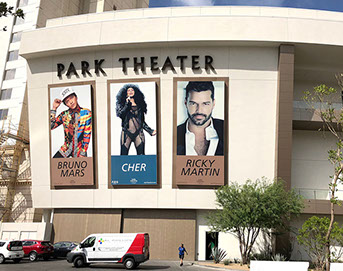 March 4, 2019
As the one and only Cher prepares to return to Las Vegas next week for her acclaimed engagement CLASSIC CHER performances at Park Theater at Park MGM, due to incredible ticket demand six new shows have been added.
The additional show dates scheduled August 21 – September 1, 2019 will go on sale to the public beginning Friday, March 8 at 10 a.m. PST.
Now in its third year, CLASSIC CHER, continues to garner rave reviews and remains one of the must-see shows on the Las Vegas Strip.
The over-the-top production celebrates the Oscar, Emmy and GRAMMY Award-winning artist's phenomenal 50-year career in music, film and TV and features her top hits including "If I Could Turn Back Time," "Believe," "I Got You Babe" and "I Found Someone" along with highlights from her most recent ABBA tribute album Dancing Queen.
The six new show dates going on sale are as follows:
8/21/2019 - Las Vegas, NV @ Park Theater at Park MGM
8/23/2019 - Las Vegas, NV @ Park Theater at Park MGM
8/24/2019 - Las Vegas, NV @ Park Theater at Park MGM
8/28/2019 - Las Vegas, NV @ Park Theater at Park MGM
8/31/2019 - Las Vegas, NV @ Park Theater at Park MGM
9/1/2019 - Las Vegas, NV @ Park Theater at Park MGM
Tickets can be purchased online at ParkTheaterLV.com, or Ticketmaster.com.
Showtime is 8:00 p.m.
​

We Got Her, Babe: Cher Stands Alone
There's no other career quite like hers in the history of pop music, and right now, it's hitting a new peak
By ROB SHEFFIELD
Rolling Stone
February 28, 2019
​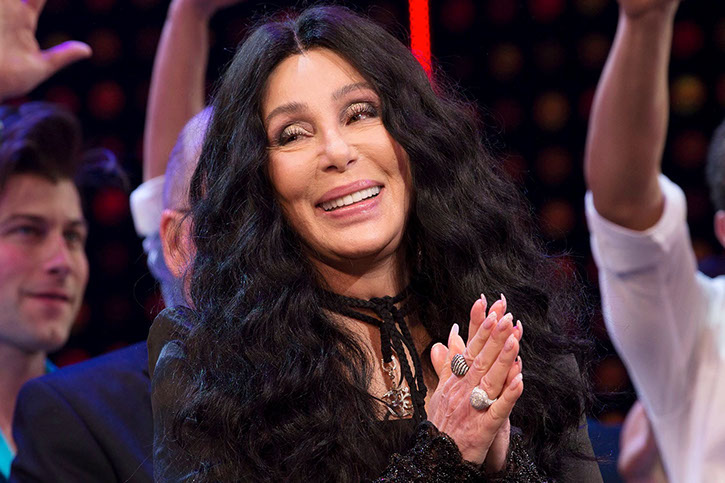 Evan Agostini/Invision/AP/REX/Shutterstock

At this point, Cher is more than just a pop star; she's the one-woman embodiment of the whole gaudy story of pop music. She's a myth so huge that the new Broadway musical The Cher Show takes three different Chers to encompass her — Babe Cher, Lady Cher and Star Cher. She was just 16 when she got discovered by Sonny Bono, already a seasoned music-biz shark, and soon became his hippie bride in a blur of miniskirts and fringed vests. Everybody thought she was washed up by the time she turned 20, but she refused to go. "If I Could Turn Back Time" became her theme song because the battle of Cher versus Time turned out to be a mismatch. It's Time that has trouble turning back Cher.
In the past year, she's enjoyed a high-profile twirl in the blockbuster Mamma Mia! Here We Go Again, stepping out of a helicopter to belt "Fernando" to Andy Garcia. She topped that with a smash album of ABBA covers, Dancing Queen, saluting one of the only pop franchises that can match her for indestructible cool. She just got her lifetime-achievement coronation at the Kennedy Center, complete with Cyndi Lauper and Adam Lambert serenading her with "I Got You Babe."
There are no other careers remotely like hers. She spent the Seventies cracking cornball jokes on The Sonny and Cher Show while notching creepy Number One hits about sordid sex and bloodshed. ("Dark Lady"? That song is…a lot.) But "Believe," her most iconic hit, is the Nineties disco anthem she sang when she was 52. She's been on her farewell tour so long, it's old enough to vote. When she showed up at the MTV Video Music Awards in 2010, she took pride in announcing, "I'm the oldest chick with the biggest hair and the littlest costume."
Over the years, she has hopped on almost every music trend — Studio 54 disco in "Take Me Home," Sunset Strip hair metal in "I Found Someone," rage-queen glitz punk in "Save Up All Your Tears" — and made it her own. She invented red carpets and infomercials and humping cannons on battleships full of sailors. People said she couldn't sing, yet she always sounds like herself, with that consonants-only vocal style that batters every note into her signature mega-nasal power honk.
The Cher Show turned into a cause célèbre when Kanye West attended opening night and the guy playing Sonny Bono had to tweet at him to ask him to turn off his phone. The truly shocking twist? Kanye's response: "The dynamics of Cher and Sonny's relationship made Kim and I grab each other's hand and sing 'I got you babe.' Please pardon my lack of etiquette." Inspiring Kanye into a spasm of non-douchitude is hardly the least of Cher's accomplishments.
By now, she's part of every pop story — every legend has a Cher moment in it, from Britney (she got her start belting "If I Could Turn Back Time" on the local-fair circuit) to Nicki. (Remember when Cher and Miss Minaj had Twitter beef for a minute?) She gets one of the funniest moments in the new Beastie Boys Book, when Mike D's wife, Tamra Davis, is directing a Cher video. On the first day of the shoot, the star walks up to the director, introduces herself and announces, "I'm gonna be wearing leather. A lot of leather. Get used to it." She was rock & roll enough to marry into the Allman Brothers for nine whole days of wedded bliss. She and Gregg Allman didn't have much to say but hit it off enough to make their duet album as Allman and Woman. In the musical, they commemorate their passion with a duet on "Just Like Jesse James" that brings down the house.
In a way, the moment that sums up her genius is her awesomely ridiculous 1975 TV duet with David Bowie. They start out bumping and grinding to "Young Americans," then swerve into a bizarro oldies medley, with Bowie down on his knees crooning doo-wop to her. It was a mission statement for both of them, in their quest to encapsulate the whole pop past and warp it for the future. She's really picked up the torch from Bowie — and like him, she does it by constantly changing. As she used to sing, the beat goes on. For Cher, it always does and always will.
This story appears in the March issue of Rolling Stone, on newsstands next week.
​

Cher teaming with Speaker Nancy Pelosi, Mindy Kaling, Alyssa Milano for International Women's Day celebration
By SEIJA RANKIN
Entertainment Weekly

February 20, 2019
This year's International Women's Day is about to become a star-studded event — thanks to a singer we like to call Cher.
VH1 is marking the celebration of all things female with the VH1 Trailblazer Honors, a one-hour special dedicated to some of today's most respected politicians, entertainers, artists, and activists. At the center of the big event will be four honorees: Speaker Nancy Pelosi, #MeToo movement founder Tarana Burke, director Ava DuVernay, and Handmaid's Tale author Margaret Atwood. EW can exclusively announce that none other than Cher will be on hand to present to Pelosi — but we can't confirm whether she'll arrive via helicopter or not.
​

Mike Marsland/WireImage
The television special, which is set to air Friday, March 8, at 9 p.m. ET/PT on VH1 and Logo, will also feature performances by Rita Ora and Elle King (who will sing "Baby Outlaw" from her latest studio album, Shake the Spirit) and appearances by Anita Hill, Mindy Kaling, Alyssa Milano, and Samira Wiley in addition to the honorees.
Mamma mia indeed.
​

Three women share the role of Cher on Broadway. They call it "Cherapy."
CBS News
February 13, 2019
​
The life story of legendary singer and actress Cher has been given the Broadway treatment. It's called "The Cher Show" and the lead role is played by three actresses whose names represent the different stages of Cher's life: Star, Lady and Babe, portrayed by Stephanie J. Block, Teal Wicks and Micaela Diamond, respectively.
"CBS This Morning" co-host Gayle King met with the ladies of the show and Cher herself, who opened up about the joys and challenges of bringing her story to the stage.
"I didn't know what I was getting into … I didn't know that when you're telling the person about your life, and you're sitting there and you're kibitzing and all that, and then, all of a sudden, you go there and you see in real time, in real life, what you went through," Cher said.
Cher is a producer on the show, and gave her feedback up until opening night. At the beginning, she wasn't happy with how it turned out.
Wicks said, "It came down to, OK, well, we are here together on this stage in front of all these people no matter what, trying to put on a really good show and get to the heart of this woman and I think what made her such a great actor is that she's tapped into human authenticity and I feel like we all had to believe that we are authentic actors and that eventually she would be on board with us."
Today, she's very happy with the show and even worked with the actresses individually.
"Immediately, she wanted to work on my walk … this is the thing with Cher, and I've said it a couple times, but I think it's right, she's not a 'but,' she's an 'and.' She's feminine and strong. She's yes and no … so with me, she kept saying, 'You need to be a bit softer.' You know, I'd never really thought or viewed her in that way, but that's the way she views herself."
Cher also told Wicks she's "not that tough." "She said it in a way that's like she's still shocked that people think that she's this tough chick," Wicks recalled.
And she reminded Diamond that she has always been "painfully shy."
"Even as she grew up ... she really was just thrust into different challenges, and she just kept rising to the occasion," Diamond said.
All three women are thankful for the opportunity to portray such an inspiring woman, and for having each others' company in the task. They call it their "Cherapy."
"It's really special as an actor to have such lovely scenes with other women … it's very therapeutic, it's our Cherapy," Wicks said.
"I think it has gifted me a sort of freedom and acceptance," Block said. "So I speak up more, I believe in myself more ... and that's all because I'm playing Cher. So I'm a different Stephanie because I was gifted this role."
​

Cher made us believe in more than just life after love
at Little Caesars Arena
By Jerilyn Jordan
Detroit Metro Times
February 13, 2019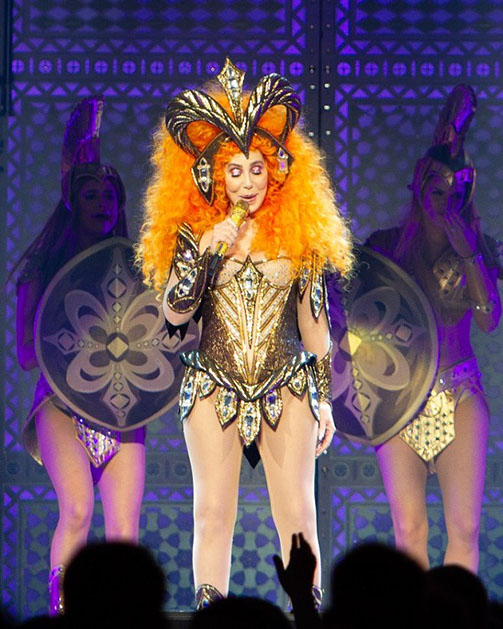 Kayleigh Waterman
Sixteen songs, nine costume and wig changes, four video montages, three ABBA covers, and one duet with a late ex-husband via video screen, and what you have is but the tip of the iceberg in terms of Cher's latest farewell spectacle.
The iconic performer and actress took to the Little Caesars Arena stage Tuesday night, armed with nearly six decades worth of material and turned back the clock with an energetic and, at times, delightfully campy romp (at one point she emerged from the top of a robotic elephant in Indian garb) through her resilient career.
The 72-year-old Cher opened the show surrounded by sexy gladiators and warriors while she emerged wearing an untamed orange wig, metal headdress, and a glittery frock with a mile-high slit and launched into 2013's "Woman's World" and "Strong Enough" from 1998's Believe.
Harkening back to her Sonny & Cher Comedy Hour days, the living legend then unleashed a sprawling, seemingly improvisational, 15-minute monologue, during which she dished on her life-changing 48-hour 40th birthday, her David Letterman debut, owing back taxes, performing sad dinner theater in Windsor casinos, Studio 54, and Nicolas Cage.
"I was just about to do a movie with Nicki Cage," she said in reference to Moonstruck, for which she won an Academy Award. "I was 40, he was 21 and honestly, I looked better than he did. Just sayin'."
And she was able to unintentionally rally the thousands in attendance to boo Jack Nicolson and director George Miller for having told the actress that she was too old and unsexy for her role in The Witches of Eastwick. Cher said all of this, mind you, while dressed like a goddamn resurrected Roman Empress.
Throughout the night, Cher limited herself to minor dance gestures and toggled between stomping across the stage (in sensible footwear, mind you) and stationarily basking in the spotlight while supported by a bevy of dancers and elaborate choreography. Her voice, however, seemed virtually unaffected by her 50-plus-years as a performer and yes, her vocals were live (she laughed during a verse of "The Shoop Shoop Song (It's in His Kiss)" and it was incredibly endearing) though, again, supported by some strategic backup singing.
Wearing sequin bell-bottoms, the most touching moment straight out of 1965, when Cher joked that she had planned on saving the following song for her next farewell tour, but, instead, performed "I Got You Babe" alongside a video screen and an old recording of her late ex-husband and partner Sonny Bono.
She threw in a few covers "Walking in Memphis" by Mar Cohn and "The Shoop Shoop Song (It's in His Kiss)", and tossed a bone to anyone who saw her 2010 movie with Christina Aguilera with "Welcome to Burlesque."
The centerpiece of the 95-minute show was Cher's take on three ABBA songs ("SOS," "Waterloo," and "Fernando,") which might seem random if you didn't know that Cher released 2018's Dancing Queen — a collection of ABBA covers released in conjunction with Mama Mia!: Here We Go Again in which Cher stars as Meryl Streep's mother (yes, Cher looks that good.)
To round out the set and as a true testament to her show-womanship, Cher emerged in a cheeky see-through black one-piece complete with garters, black leather jacket that was more revealing than when she wore it famously in 1989 for last night's renditions of "I Found Someone" and"If I Could Turn Back Time.
Closing out the evening, Cher gave everyone what they came to see and hear: "Believe" — her empowering autotune-heavy dance banger about second chances that is, even today, ahead of its time.
Wearing a red wig, and a bejeweled, flapper-style, barely-there dress, and nude bra, and using less autotune than she did in 1998, Cher left us believing in something bigger than life after love, or anti-aging wizardry, or the power of reliable nipple pasties — we left believing in Cher.
Following the performance, snippets of audience commentary ranged from "She didn't play enough old songs," to "she sounded perfect," and "I can't believe she wore that."
But early in the evening, Cher gave us a stern reminder:
"This is me, you came to see me. This is what you get."
​

Cher at the United Center review:
Defiance, confidence, determination ... and dazzling outfits
Bob Gendron
Chicago Tribune
February 6, 2019
​
Cher's concert on Friday, Feb. 8, 2019, at a rafters-packed United Center celebrated the art of extravaganza. (Chris Sweda/Chicago Tribune)

On the surface, Cher's concert Friday at a rafters-packed United Center celebrated the art of extravaganza. A multi-tiered stage, a mobile elephant, Cirque du Soleil-inspired acrobatics, an entourage of dancers and a department store's worth of dazzling outfits occasionally threatened to make the music incidental.
But between the lines of the costume-change breaks and choreographed skits, the singer's 100-minute show resonated with empowering messages relevant to today's #MeToo era. Not for nothing did she begin with a pair of songs— "Woman's World" and "Strong Enough"— steeped in defiance, confidence and determination. Or use her sole turn talking to the crowd at length to tell personal stories about facing age discrimination, sexism and self-doubt.
By now, independence is second nature to Cher. Well into her sixth decade as a multi-disciplined artist and activist, she long ago conquered practically every entertainment medium on her own terms and seemingly anticipated the ongoing wave of burgeoning female musicians—let alone the trend of spectacle-based performances. She relayed such histories via archival video clips, narratives and song, yet managed to mostly avoid stale nostalgia.
Balancing a witty sense of humor with diva glamour, Cher paid homage to creative contemporaries and revisited the different periods that launched several of her hits. And whether strutting amidst a throng of Roman-themed warriors, traveling back to the Summer of Love in glitter-adorned bellbottoms or overseeing a burlesque cabaret, she used pop as a means to dream, imagine and triumph. An up-tempo cover of ABBA's "Waterloo" buzzed with possibility on the strength of her voice. "The Beat Goes On," appointed with exotic French ye-ye-style rhythms, connected the past to the present.
At times, Cher turned suggestion into declaration. A visual highlight reel of her acting roles emphasized film dialogues and scenes that depicted her in control or moving on from a toxic situation—or man. In another prerecorded segue, she spoke about how her childhood attraction to Elvis Presley related not only to his music, but the fact he followed his own muse. Cher carried on such tradition while possessing an awareness that witnessed her mock her own vanity, retirement and mistakes.
For all the fancy wigs and elaborate apparel, Cher never appeared overshadowed. However, a video-based duet with her deceased ex-husband/partner Sonny Bono on "I Got You Babe" came across as canned and mawkish. A few of the interruptions necessitated by wardrobe changes also stifled momentum and felt unnecessary.
Any missteps melted away once the 72-year-old singer emerged toward the end of the set in a revealing body-stocking/bikini ensemble similar to the one she wore in the famous video for her 1989 smash "If I Could Turn Back Time." Far from playing to any sexualized gaze or fantasy, Cher pulled off the bold look and upended age-themed conventions out of a desire to be herself and embrace autonomy—ideas she successfully shared with every woman in earshot.
If Cher brought the pageantry, openers Nile Rodgers & Chic delivered the funk. Exuding timeless urban cool in a beret, vibrant purple/pink slacks and sparkling black jacket, the legendary producer/singer/guitarist led his sharp band on a mini-tour of R&B, soul and disco heritage. Few warm-up acts manage to get an arena audience on its feet. Rodgers and company had people dancing in the aisles. "Good Times," indeed.
​

Cher's costumes will be on display at the Met
By Melissa Minton
Page Six

February 4, 2019
​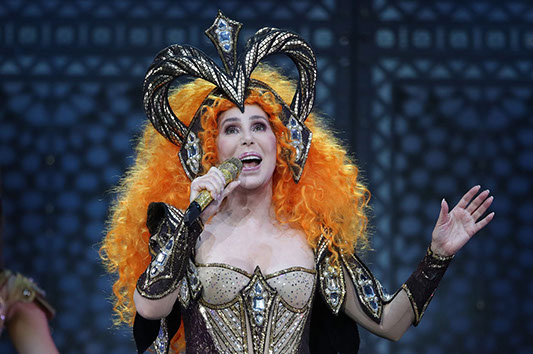 Getty Images
Cher, 72, has made it to the Metropolitan Museum of Art.
The singer's iconic embellished costumes will be part of the museum's Met Gala exhibit in May, according to fashion designer and long-time collaborator, Bob Mackie.
In a new interview with Fashionista, Mackie revealed that he keeps the archives of the remaining original Cher costumes and lent a few for the upcoming "Camp: Notes on Fashion" exhibit.
Following last year's "Heavenly Bodies: Fashion and the Catholic Imagination" exhibit, this year's focus on camp was announced in October and will be hosted by Lady Gaga, Harry Styles and Serena Williams. The theme is a play on Susan Sontag's 1964 essay "Notes on 'Camp'," which catapulted the term — referring to a combination of high art and pop culture — into the mainstream.
Mackie has kept meticulous records of his original embroidery and dress patterns for the iconic looks, from the pieces he designed for "The Sonny & Cher Comedy Hour" to the over-the-top outfits Cher sported in real life, including the memorable beaded gown and headdress she wore to the 1986 Oscars.
There are no additional details about which pieces, if any, will make the final curation on the first Monday in May, but it is rare that the public gets a hint of what to expect before the big reveal.
Besides being the record-keeper for Cher's past costumes, Mackie also served as the costume designer for "The Cher Show" on Broadway.
He used the exact patterns of the vintage pieces to create "outrageously expensive" new clothing for the stage and even had the unique pleasure of dressing a fictionalized version of himself.
Though the costumes Mackie designed for a young version of himself are a bit more flamboyant than what he wears in real life, the show does use a quote straight out of his mouth.
"They used one of my lines that I said about seeing an 'underboob,'" he told Fashionista. "I said, 'If you stood her on her head, it would just be cleavage!' and they just took that right out of an interview of mine. I would have been annoyed if they hadn't used some of my stuff."
It remains to be seen if Cher will attend the Anna Wintour-led Met Gala. She most recently attended in 2015 for the "China: Through the Looking Glass" exhibit. If the singer does show up, it would be unsurprising to see Mackie on her arm.