Cher on Playing Herself in Bobbleheads: The Movie: 'No One Has Ever Asked Me to Do Voice-Overs!'
"I do have a strange voice, I think, for voice-overs, because it's monotonous," Cher tells PEOPLE
Dec. 8, 2020
By Nigel Smith
People
Cher is just as surprised as her fans that she stars in the new animated family film, Bobbleheads: The Movie, based on the popular collectible figurine.
"I've been famous for a million years, and no one has ever asked me to do voice-overs," she tells PEOPLE exclusively.
"I do have a strange voice, I think, for voice-overs, because it's monotonous," Cher, 74, adds. "I mean, when you see my face, it's better when I'm talking. But it's a very strange ... I don't even know. I hate hearing myself. So it's a strange voice."


​
Cher in Bobbleheads: The Movie | CREDIT: UNIVERSAL HOME PICTURES ENTERTAINMENT
When she was made the offer to play a bobblehead version of herself in the action-adventure, Cher recalls thinking, "'Well, I'm going to try this. And it sounds good.' "
And after seeing what the animated bobbleheads would look like in the Kirk Wise (The Hunchback of Notre Dame)-directed film, she said to herself: "Yeah, I do belong here."
In the film, the Oscar winner voices Bobblehead Cher, who offers words of wisdom to a group of misfit bobbleheads on a dangerous mission to save one of their own.
Asked if she made Bobbleheads: The Movie to endear herself to a new generation of fans, Cher says, "It's like Mamma Mia! Here We Go Again. I just kept thinking, 'What am I doing in this film? This is a film for young people. Little kids don't know who I am."
"But I realized that it didn't make any difference," she continues. "It didn't make any difference if kids knew who I was or not. My character was great, I was wearing my 'Turn Back Time' outfit, and I was helping the little kids."
"For me, it was a story about being yourself. It helps kids without them really even knowing it. But kids need to know to be themselves. And everybody has something that maybe they're not happy with, or they're nervous about, or whatever. But I think this is something that sends a good message."
As for whether the legend owns any bobbleheads of her own, Cher concedes, "A friend of mine gave me one of me once."
"I think I'm a little ... I don't know, I think I might be a little bit old [for them]."
Bobbleheads: The Movie premieres exclusively on Digital, DVD and On Demand on December 8 and will be streaming soon on Netflix from Universal Pictures Home Entertainment.
​

How Cher Made the Most Out of Her 2020
The music legend accomplished a lot during this turbulent year.
Dec. 7, 2020
BY KAYLA KEEGAN
Good Housekeeping
If there's one thing Cher has always strived to do, it's be her authentic self, no matter what people have to say. Now, as an Emmy-, Grammy- and Oscar-winning international entertainment sensation, it's clear that the beloved "Goddess of Pop" is onto something.
"I'm as honest as anyone in show business," Cher tells Good Housekeeping. "And it gets me into all kinds of trouble ... I have not necessarily been the girl next door. But it seems to have worked out." Chuckling to herself, Cher proudly adds that her unapologetic attitude has even allowed her to "go on stage naked and still have people like me."
The 74-year-old icon's fearless devotion to being herself and standing up for what she believes in has culminated in much more than countless music and acting accolades. Throughout her six-decade-long career, Cher's steadfast approach has also manifested in philanthropic efforts, unexpected projects, and political activism work.
In 2020 alone, her charitable actions have been vast. This past spring, the icon released a Spanish cover of ABBA's "Chiquitita" for the United Nations International Children's Emergency Fund (UNICEF). Later on in the year, she participated with Kylie Minogue, Robbie Williams, and more artists on a special rendition of "Stop Crying Your Heart Out" for BBC Children in Need. Meanwhile, Cher also partnered with public health expert Dr. Irwin Redlener on establishing The CherCares Pandemic Resource and Response Fund to help raise money for underserved communities in need of coronavirus supplies and testing resources.
While devoting her time to others, Cher also put her beliefs into action working "pretty hard" for President-Elect Joe Biden's campaign.
"Joe is so wonderful. I've known him since 2006. He is such a wonderful person, and he's strong, compassionate, and tough," Cher, who tweaked the lyrics to "Happiness Is Just a Thing Called Joe" and performed the song for a voter registration event in October, claims. "We couldn't have a better man. There's no one that I can think of now that could do the job, the Herculean job, that is in front of him now ... he can work with ashes."
Even more recently, Cher's animal rights advocacy work with global talent agency boss Mark Cowne through their charity, Free the Wild, has caught the attention of millions. This fall, Cher traveled to Pakistan to escort Kavaan, dubbed the world's loneliest elephant, to a new wildlife sanctuary in Cambodia. Though the #FreeKaavan movement is gaining worldwide attention now, Cher has been working on getting the 36-year-old elephant out of the Marghazar Zoo, where conditions were dire, for years.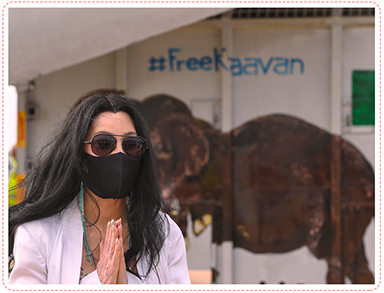 In fact, Cher is so thrilled about her work with Kavaan, she's willing to call his freedom "one of the biggest pleasures" of her life. "He is having the best time of his life," Cher exclaims about Kaavan, who she is currently with in Cambodia.
Alas, not everything Cher has done in 2020 has been tied to activism or advocacy. For one, Cher signed up for a fun voiceover project for the new animated Universal film Bobbleheads: The Movie. In it, Cher plays the bobblehead version of herself, who serves as a glamorous and glitzy guardian angel for the other bobbles, Kelani (Brenda Song), Ikioi (Karen Fukuhara), Deuce (Khary Payton), and Purrbles (Julian Sands).
Of course, this isn't Cher's first time diving into the children's entertainment space — after all, she did voice her animated self in The New Scooby-Doo Movies: The Secret of Shark Island back in 1972. Even still, lending her voice to this new flick forced Cher to step outside her comfort zone.
"I've wanted to do it my whole life, but nobody ever wanted me to," Cher says about doing animated films. "I don't really have a voice for animation — I have kind of a strange, monotone voice. So, I was a little bit trepidatious. But then when I started to get into it, it was so much fun."
What really drew Cher to the project, though, was the movie's message about embracing uniqueness and finding your own way to be a light in the world.
"My mother [Georgia Holt] was so great about telling me [I was special], because I was different," Cher recalls. "She was very great about supporting me and saying, 'You're special and some day the whole world will know it.' I think people have to know they're special, and they have to be honest with themselves. We have to impart that to kids."
It's a lesson Cher started to understand at an early age. Though Cher is comfortable now living by the message that "being different is a great thing," it wasn't always easy for the "Believe" singer. The acclaimed entertainer dropped out of school at 16 after struggling for years with reading.
Her challenges in the classroom led to eventual triumph when she found her calling to the spotlight and met her late ex-husband, Sonny Bono. "I started off very rough, because I'm very dyslexic," Cher remembers. "And so, I couldn't read. I mean, I think the first book I ever actually read for happiness, Sonny gave me. It was The Saracen Blade. And I read it at my own pace, and I loved it. And then I found out that I loved reading."
From then on, Cher has continued to forge her own path forward — and to say it has paid off is an understatement. Over time, Cher has come to live by a key rule that also happens to be a main takeaway in Bobbleheads: Embrace yourself with love and be proud of who you are. By doing so, you naturally elevate the world around you.
"Cherish being different, and if you have problems or think you can't attain something, or that you'll never be the same as someone you think is better than you, you work on yourself," Cher said. "Do that, and you will have a great life and make other people's lives good, as well."
Now that's an attitude we all can get behind for 2021.
​

Cher Is Coming to Terms With Kids Today Not Knowing Who She Is
Dec. 7, 2020
By LOUISA BALLHAUS, SABRINA ROJAS WEISS
SheKnows
Cher is a household name, period, end of story. And it's hard to imagine that ever changing — but the goddess of pop has had to do exactly that as she considers new roles in recent years. At 74 years old, Cher is still acting, singing, and performing and shows no sign of slowing down, and new movie Bobbleheads: The Movie (out December 8 on digital and DVD, coming soon to Netflix) was a moment where she realized that, for the first time in a long time, the people watching her might not know who she is. In a new exclusive interview with SheKnows, Cher tells us how she got over that hurdle and embraced the anonymity of voiceover to get back to storytelling. "My character was fun," she says. "They don't need to know who I am."
Her character, FYI, is Cher herself — but of course, in Bobble-ified form. And her character is fun: after a Toy Story-esque escape plot with the main Bobbleheads at home, who are facing two home intruders after their owners go away, Cher the Bobblehead is there to restore peace and order to the Bobblehead way of life, preaching the importance of being yourself and embracing who you are. It's a message Cher is more than happy to spread, onscreen or otherwise, and a motto she claims is behind her success.
"You are who you are," Cher tells SheKnows, parroting her Bobbleheads persona. "if you are authentic, you will be successful in your in your life."
Read on for more of what Cher had to say about Bobbleheads, why she doesn't believe in planning, and her super-secret mission to Cambodia to help relocate World's Loneliest Elephant Kaavan.
SheKnows: It was almost a year ago today that you were my last big concert at Madison Square Garden at home. It was amazing.


Cher: I love that. I always get intimidated there, but I always love it.
SK: Still?


Cher: Well, I mean, it's Madison Square Garden. I've been listening to it and I've heard about it since I was a teeny child.
SK: I keep thinking about everyone that's part of your show. What are they all doing right now? Do you keep in touch? How are they doing in the pandemic?


Cher: Well, I was just yeah, I was just with one of my dancers a little while ago, and it's very difficult. I mean, they're struggling. In Las Vegas, all the other performers up and down the strip, we all donated money to the stagehands and to the singers and dancers to try to give them a little cushion to fall back on. But, you know, everybody's struggling, and they're struggling, too.
SK: Well, I want to make this interview all about Kaavan (the elephant).


Cher: Hold on just a second. I thought it was Bobbleheads! We're not talking about Bobbleheads? I'm sorry, but this is about about Bobbleheads. But I can tell you, it was wonderful. If you want to know the experience, it was wonderful.
SK: Of Bobbleheads or Kaavan?


Cher: Well both, actually both. I mean, it was a completely different experience, but. But you know what, I had never done voiceovers, and then all of a sudden I did Scooby Doo and Bobbleheads and something else that neither one of us can remember. But it was really fun, you know? And I thought, why? Why are they asking me to do this? I'm so old and no kids are going to, you know, even know who Cher is, you know? But it was what I realized was my message to them was — just, you know, you be who you are, just whatever you think your problem is, you just deal with it and you are who you are. And if you are authentic, you will be successful in your in your life.
I mean, it's so bizarre to me. You know, it's like even when I did Mamma Mia! I thought, well, these kids are younger. They're not going to care that I'm in this movie, even though I was only in it for five minutes. But even with, like, Scooby Doo. But I had done Scooby Doo once before the summer. But and then I was thinking Bobbleheads. I saw a bobblehead of me. Someone gave me one…I thought these are little kids, you know? But then I thought, you know, my character was fun and and they don't need to know who I am.
SK: And there are parents watching along.


Cher: Right. But I'm glad that I did it. I'm really glad that I did it.
SK: I was wondering if this is part of a master plan so that every generation will adore you.


Cher: You know what? I haven't made a plan in my entire life.
SK: Well, that's working out.


Cher: I mean, I'm just not a planner. I'm truthfully not a planner. I've worked hard, and I've either taken opportunities or not taken them, but I've never really been a planner. I just I think you do what comes to you. And sometimes you have to bring it yourself. Sometimes you have to brand yourself, but usually things just kind of come your way and you either take it, you know, take the road even if you're frightened or you don't. And I've missed some things, too, you know, that I wish I'd done. But but, you know, I also believe that… what comes to you, belongs to you, and sometimes it just doesn't belong to you.
SK: I was thinking about about you as a bobblehead, and I know there have been many dolls made of you. What was it like the first time you ever saw yourself as as a doll?


Cher: I was pretty excited. I think we were doing the TV show, right? We were doing the TV show and there was a Barbie doll of me. Yeah. And I was pleased, you know, I was thrilled, actually, and I thought they did a good job. And, you know, I loved all the costumes and Bob [Mackie] did all the costumes, of course. And it's exciting, you know, it's exciting and it's really exciting when people love it and want to have it, want to own her.
SK: I saw you like beat Barbie for a year. That's pretty cool… So now can you tell me about Kaavan?


Cher: Well, you know what, I can't tell you about it, except I can tell you it was one of the most thrilling times of my life. I thought, how am I going [to help him]? I'm not going to these places, I don't know anything about this, but then all of a sudden, we just — my partner and I — we formed Free the Wild and we, just two people alone, started doing it.
This interview has been edited and condensed for length and clarity.
​

Cher visits Pakistan to help free 'world's loneliest elephant'
Dec. 5, 2020
Mag The Weekly Magazine
The Believe singer celebrated the departure of Kaavan the elephant from the Pakistani zoo he has lived in for 35 years. For years, animal rights activists have lobbied for Kaavan to be released, with the elephant having been diagnosed as both overweight and malnourished earlier this year. His partner died in 2012, leading campaigners to dub him the "world's loneliest elephant". Outrage over the treatment of Kaavan at the capital's zoo went global several years ago with a petition garnering more than 200,000 signatures after it emerged he was being chained up. The Islamabad High Court ordered wildlife officials to consult with Sri Lanka, where the Asian elephant came from, to find him a "suitable sanctuary" within 30 days. Cher, who is the co-founder of organization Free the Wild, has been a vocal advocate for his resettlement and this week secretly traveled to Pakistan to wave Kaavan off as he is moved to a sanctuary in Cambodia. A documentary about the singer's trip to Pakistan is in the works, with Cher saying that she was "so proud" to be involved in his release.